With so many great climbing books out there it's hard to know which ones are worth your time and money. To help you out we have created a list of our top 10 climbing books. These books we love either for there information on training and safety, their mental aspect, or their insight into the climbing life.

JOE SIMPSON
Touching the Void
Touching the Void is written by Joe Simpson tells the story about his and Simon Yaets disaster-ridden yet ultimately successful ascent of the 6,344-meter peak, Siula Grande. Where the book is mainly about themes as friendship, suffering, fear, and survival. It also tells the story of the spiritual and physical strength of humans. The book gained a lot of popularity as it was turned into a movie back in 2003.
THE MOUNTAINEERS
MOUNTAINEERING:
Freedom of the Hills
Freedom of the Hills is an all-time classic for climbers and mountaineers. With his 600 pages, the book is straightforward and pleasant to read. Subjects covered in the book are outdoor fundamentals, rock climbing technique, rope work, emergency response, and much more.
ALEX HONNOLD
Alone on the Wall
The world-famous free soloist Alex Honnold takes an introspective look as he narrates his seven greatest climbs. He focuses on topics as risk, reward, and focus. His co-writer David Roberst provides the reader with a greater context and perspective. The book also contains 16 pages of color photographs that will get you excited to go outside and chase your dreams.
LIONEL TERRAY
Conquistadors of the Useless:
From the Alps to Annapurna
With a very down to earth personality and notable ascents in the Andes and the Himalayas, Lionel Terray makes Conquistadors of the Useless a beautiful and inspiring autobiography. He turns the sometimes slow and boring mountaineering into fascinating stories. This will speak to anyone who loves the mountains and does so in a way that equally focuses on facts, personal insight, and emotion.
ARNO ILGNER
Rock Warrior's Way
Whether you crush 4 or 9B, Rock Warrior's Way is a must-read for every climber. The mental aspects of rock climbing are often overlooked in climbing literature. We all know how drastically our thoughts can affect our climbing performance and experience.
This mental training guide outlines a program to train your mind in overcoming fears as performance anxiety to the fear of falling. The Rock Warrior's Way helps us learn how to use our love for climbing as our motivating force.
STEVE ROPER
Camp 4:
Recollections of a Yosemite Rock climber
In this book, you get a look at the history of climbing culture in Yosemite. Steven Roper spent the last 10 years living in Yosemite Valley during the "Golden Age" of rock climbing. In the 1960s, Camp 4 was the gathering spot for misfit climbers. These are accounts of the characters, climbs, attitudes, and stories that came out of Camp 4 and Yosemite.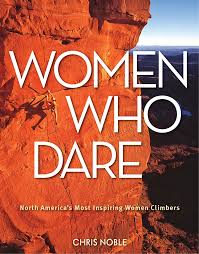 CHRIS NOBLE
Women Who Dare:
North America's Most Inspiring Women Climbers
Woman Who Dares by Chris Noble serves as an inspiring book full of fascinating personal stories, struggles, successes, and useful advice—applicable to both climbing and life in general.
Male or female, climber or not, Women Who Dare will inspire you. This book extends a healthy reminder of the ways we can all learn how to follow our passions, overcome challenges, and find personal fulfillment in all that we do.
LYNN HILL
Climbing Free:
My Life in the Vertical World
Lynn Hill's autobiography Climbing Free, tells the story of her childhood, climbing life and her free ascent of The Nose on El Capitan in 1994. In contrast to other autobiographies, this book is refreshing and inspires the reader quite a lot.
DON MCGRATH AND JEFF ELISON
Vertical Mind:
Psychological Approaches for Optimal Rock Climbing
In this mental training manual, Don McGrath and Jeff Elison teach you about the importance of our minds when it comes to unlocking your full potential as an athlete. This book can help you retrain your brain to perform at a higher level. This is a great book for everybody who feels held back by fear or anxiety while climbing. You can expect lots of valuable drills, exercises, and insights.
JEREMY COLLINS
Drawn:
The Art of Ascent
Drawn is Jeremy Collins' artful story of feeling pulled to climb in every direction while also being a committed father and husband. After losing a dear friend in a climbing accident, Jeremy and his friends decide to go on a journey to put up first ascents in the US, China, Venezuela, and Canada. Drawn also features beautiful artwork from the sketchbooks that he kept during his travels. Climbers and non-climbers alike will find this book relatable and enriching.