RUTA 3:
From Taliarte Lighthouse to La Aldea and Tasartico

Day 1: From Taliarte lighthouse to Pico de Las Nieves
Taliarte Lighthouse
We started our 3rd long trail hike as per the sun movement, from east to west. Since on the east side of Canary Island, there is not a big Ocean, the wind and the waves have no time to grow in power, the sand coming from Sahara, only 100km to the east, we find on this part of the Island a friendly coastline.
Punta de Melenara Lighthouse also known as the Faro de Taliarte was our starting point, it is an active 20th-century lighthouse, which is located between Playa del Hombre and Playa de Melenara. Gofio was so ready to go into nature again, with a great opportunity for swimming.
Tufia
After several on the seaside, visiting small villages and some amazing coast spots, we arrived at Tufia where we went for a swim to start the day clean and refreshed and this was much appreciated because the sun was already out and burning. With the many fish that can be seen, this is also a beautiful place for snorkeling and diving. An incredible way of living, cave houses facing the Ocean. We put our clothes back on and were ready to go inland.
Barranco de Guayadeque
You must also know, that the east being a friendly coast to live, is also the most industrial part due to the same factor, going past the banana plantations we saw the sea getting further and further away, there is a road part before we get to Agüimes, a nice stop for recharging battery. You could also see gofio's tail swinging harder and harder as we got closer to the wild nature, even though the sun was getting harder and harder, a nice opportunity to highly precaution with the sun in Canary Island.
At one point we decided to go down to Barranco de Guayadeque to escape the sun a bit, an impressive barranco, a view that can only be seeing. This Barranco separates the municipalities of Ingenio and Agüimes and is archaeologically important since it is full of caves that served as a shelter for many Canarian aborigines.
In the Barranco de Guayadeque, a multitude of mummies and different tools used by the aborigines were found, and that today can be seen in the Canarian Museum. In addition, the Barranco de Guayadeque is known for its cave restaurants, where you can taste typical Canarian food, eating in places that keep Aboriginal history on their walls.
We asked for some water in one of the cave restaurants and headed to Los Marteles, a nice path going up, called Camino de Montaña de Tierra.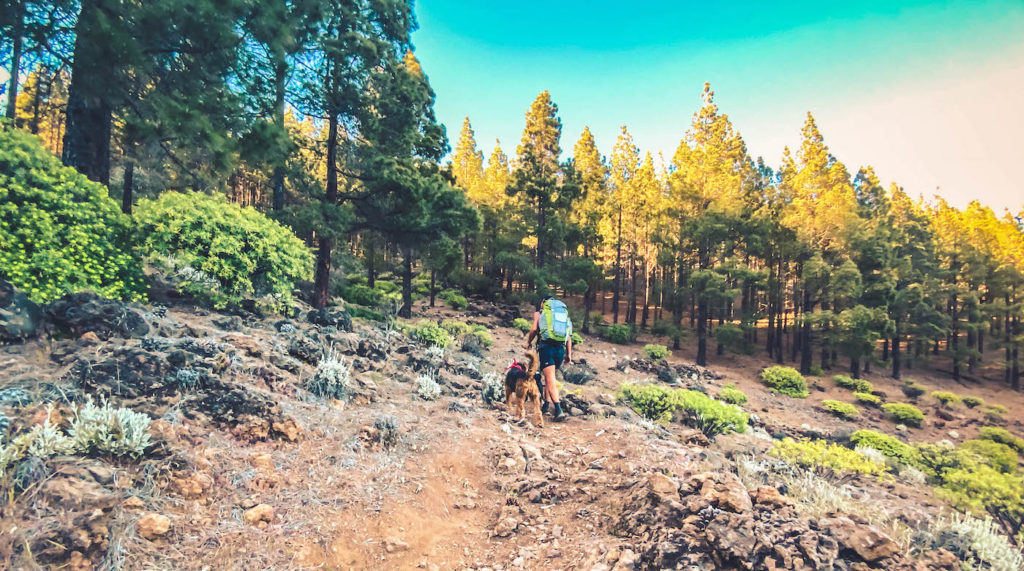 Caldera de Los Marteles
All the way up to The Caldera de Los Marteles is an amazing trip, back to the volcano crater. You feel connected to the evolution of this island when you see it so clearly. I felt old energy while touching the sole Almond tree in the basin of the crater. At this place, the environment was different from that in the Guayadeque ravine. We started seeing more and more pine trees and the vegetation changed as we were approaching the peak of the island.
Pico de Las Nieves
After a solid 40km hike, we arrived at the top of the island again but the hike wasn't over. At this point, the sun was down and the moon was nowhere to be found. We had a 6km night-hike with zero visibility ahead of us. This was truly a sensational experience in which we had to trust our sense of feeling and orientation. But finally, we arrived tired and hungry but extremely satisfied. We made a good meal, decided we were going to wake up early, and slept.
DISCOVER THE EXPERIENCES LIVED ON DAY 1
Day 2 and 3: From Pico de Las Nieves to Tasartico
Caldera de Tejeda
We woke up at 5.30 with heavy legs but full of energy for the day to come. The dogs.. they didn't want to wake up. With a slow start, we managed to leave at 7 with Tejeda as our first goal. Did you know Tejeda lies in the basin of a 28km x 18km enormous crater, that's insane. Anyway, it was a fresh morning, the birds were singing and the sun came peeking over the mountains. Very energizing feeling.
Soon we arrived at Tejeda and we had breakfast in one of their dulceria's. Tejeda is known for having the best sweets such as the typical one, Palmera. It's a good place for people with sweet tooth, but avoid going on the weekends if you don't like waiting in line.
At this point, we also decided to let the dogs go home since the day was going to be long, hard, and hot. But of course incredibly beautiful!
Roque Bentayga
We were heading to a little village called El Espinillo to drop the dogs off and continued with some new energy. We passed very few but charming little villages such as La Solana, El Chorrillo, and after that not much more. This is a very wild untouched part of the island. A remarkable thing I've noticed while hiking on this island is the fact that you can see Roque Nublo from so many different directions. Roque Bentayga is also a big rock formation you can see.
Roque Bentayga is a rock formation that has at least 100 caves of different sizes all around the rock. It was a sacred place of worship for the old Canarians and they did a lot of rituals here. It is said that there used to be a matriarchy around this place so it vibrates with feminine energy.
Canyoning in Pino Gordo
On this hike, we saw some abandoned houses which must be incredible to live at since the locations have indescribable views. Next to that we also saw some huge dams. On one of the dams, close to La Aldea, in Pino Gordo, we started our canyoning experience, which we did with the Climbo company, experts in canyoning, climbing, and multi-adventures. It was so much fun and so refreshing to jump in these water pools and to abseil down the steep parts!
I recommend this to anyone who has a little adventure and adrenaline running in their veins.
La Aldea
If you look at La Aldea from the top, it is a magnificent village. Surrounded by the mountains, it gives you that real island feeling again. At this place, the sun was going down and we were just on time to buy some food so we could peacefully prepare a delicious meal at the typical Canarian room we booked.
Bonus Day: Guguy Beach
After a good shower and an energizing rest, I thought the big effort was over since we had a bonus day going to the beach. It seemed like just a 10km hike but this was no easy 10km hike. The path was pretty steep up and down and we covered a lot of height meters in this short distance. Finally, we arrived at this jewel of a beach. They call it a 'hidden' beach since you cannot reach it by car. Only by boats or by a good hike. We stayed in this peaceful place for a few hours to relax after the intense 2 days.
It relaxed me so much that I forgot about the very last effort. A 5km hike with the same height meters as the 10km hike. Intense finish for an intense 3 days.
What an amazing experience!
DISCOVER THE EXPERIENCES LIVED ON DAY 2 AND 3
SOBRE EL PROYECTO
Plan a Hike
If you are planning to come to Gran Canaria during your holidays
we can provide all that you need to have a blast on your vacation
GRAN CANARIA
PET-FRIENDLY DESTINATION
For animal lovers like us, Gran Canaria is an ideal place to travel and explore with your pet, if not, let them tell our dog Gofio how he enjoys his excursions exploring the island.
A Pet-Friendly destination par excellence, Gran Canaria is an island that loves and accepts pets. If you come on vacation to Gran Canaria you will find a variety of hotels, apartments, and rural houses that love to have animals as guests. And to eat out, don't worry, because fortunately some restaurants and bars are pet-friendly and warmly welcome your faithful friend.
Enjoy long walks through nature and the beaches of Gran Canaria with your pets.
Check all the Pet-Friendly Gran Canaria services here:
SPONSORS AND PARTNERS