ACTION CAMPS
IN GRAN CANARIA
Sign up for our programmed international meetings and enjoy escaping winter to socialize and expand your network of globe-travelers.
Offering a 7-night trip, full of adrenaline and fun, in which we combine different sports and activities so that you can enjoy your stay on the island as much as possible and make new friends from all over the world.
Aside from the main activities, every afternoon we offer other group activities, such as: Yoga, Acroyoga, Team Building games and more.
Transport will be taken care of so you don't even have to think about it! Our staff will bring you to and from the activities, as well as the airport.
Do not miss this opportunity and join our team of explorers in the Base Camp of Gran Canaria.
What are the advantages of a sportcamp on Gran Canaria?
As might have already noted, planning a perfect sport and active holiday in Gran Canaria requires a detailed planning and organization.
You are looking for a sport holiday in Gran Canaria, but would like to spare yourself from all the boring organizational issues? Don´t worry, we will do it for you!! Our sports and adventure camps are just right for you.
From airport transport over the perfect accommodation and daily activities, we really organice everything you need for an unforgettable sports holiday in Gran Canaria.
Traveling alone? No problem in our camps, you will be able to share your sporting passion together with other participants from all over the world and for sure you will make new friendships for a lifetime.
Our camps offer an individual program according to your personal wishes. Choose between our three different camps, the one that suits you best:
WHY TO CHOOSE A CAMP
ACTIVITY PROGRAM + EXTRA ACTIVITIES
Each day, after the main activity, the group will return to basecamp to enjoy other activities in group, like: yoga, acroyoga, stretching, excursions or team building games.
ACCOMMODATION IN OUR BASECAMP
Our mountain trips are held in our Base Camp, which is located in a marvelous area in the center of the island. A place for you to enjoy integrating with the other travelers in your group and kick your feet up after a long day in the mountain.
MAKE MORE THAN FRIENDS
These meetings are a great opportunity to meet people from all over the world, as well as strengthen the bonds within your group. It's more than just making friends, though, we're really forming family.
TRANSPORT INCLUDED
Unlike our other trips, the programmed meetings take care of your transport for you. Without worrying about renting a car, you are free to just enjoy.
ENJOY OUR BEST OFFER
Our programmed trips are organized so that you can enjoy your experience with A Winter Dream at a reasonable price. If you prefer a personalized touch to your journey, you can reserve a Weekly Program trip at another date.
YOU CAN CHOOSE BETWEEN OUR DIFFERENT CAMPS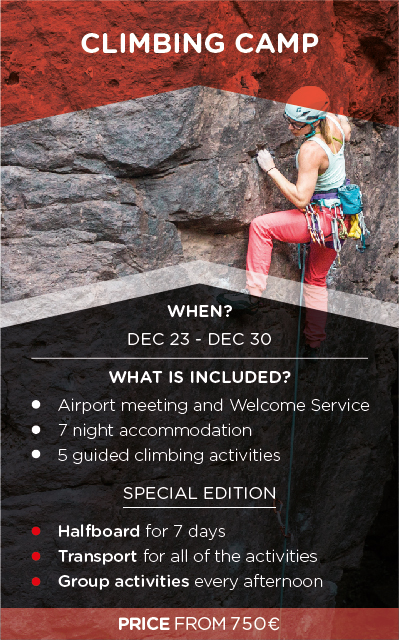 Climbing Camp
During our 7-day climbing camp you will get to know the various climbing areas of Gran Canaria together with our professional climbing trainers. Whether you already have climbing experience or you are a beginner, we offer the right activities for everyone.
Every day our guides will take you and the other participants from the basecamp to the various climbing spots of the islands. Afterwards, you can relax and recharge your batteries with our diverse leisure program.
For more information about our climbing camps in 2019, click here.
Adventure Camp
Looking for adrenaline and fun? Then our adventure camp is just right for you. Experience 7 days of action, together with many other camp participants. Venture out at a wide range of activities, including climbing, surfing or canyoning. You will definitely not get bored in our Base Camp. Our team will always make sure, that your sport holidays in Gran Canaria will be unforgettable.
For more information about our adventure camps for 2019, click here.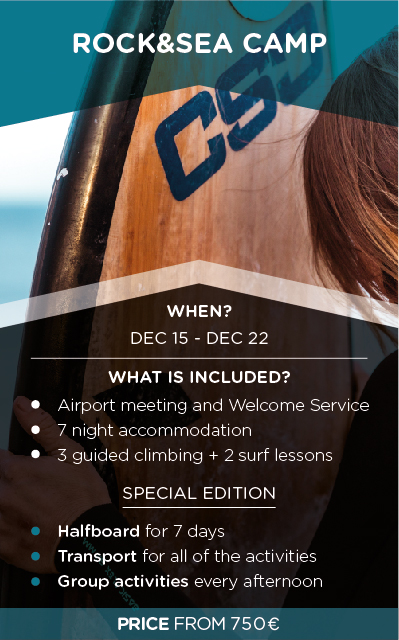 Rock&Sea Camp
Our Rock & Sea Camp offers the perfect activities for those, who love to stay by the sea as well as in the mountains. Enjoy a diverse program of climbing and surfing activities during 7 days. Relax with other participants at the basecamp and enjoy the local dishes of Gran Canaria. We take care of everything else, including transportation.
With us, you don't have to worry about anything.
For more information about our Rock&Sea camps for 2019, click here.
IF YOU WANT TO CHECK THE AVAILABILITY,
PLEASE CONTACT US
Are you looking for an specific camp for a set group? Contact us directly. Together we design an customized program according to your expectations.